Medical experts hope surgery live-streamed in VR will make health care fairer and boost training. Stretched out on a table in a large, bright operating theatre at the Royal London hospital, a patient is awaiting Shafi Ahmed's first incision in a procedure that will remove cancerous tissue from his bowel. Around the table, a team dressed in blue scrubs and face masks are gathered, exchanging the odd word, while cumbersome machines bearing bundles of wires hum gently in the background.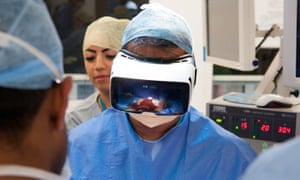 Dr Shafi Ahmed performs the operation which could be watched online by the public. Photograph: Medical Realities/PA
 Everyone is focused on the task at hand, getting ready to play their part. Scrubless and without so much as a scalpel to pass to the surgeon, I am a mere spectator to this intricate event, a bystander gazing around the room in fascination while others labour at a life-changing task. Not that the surgeons are bothered. Because although I feel like I am standing at the edge of the operating table, in reality, I am sitting in my office chair.
On Thursday afternoon I witnessed the world's first operation to be streamed live in 360-degree video, allowing medical students, trainee surgeons and curious members of the public like me to immerse themselves in the procedure in real time via the Medical Realities website. A one-minute delay was incorporated into the broadcast in case of any complications in the surgery. A cancer surgeon at Barts Health NHS Trust, Ahmed said before the operation that he believed the approach could make health care more equitable, improving the training of surgeons worldwide. With internet connections becoming better, smartphones getting cheaper and only a pair of lenses and some cardboard needed to make a virtual reality headset, the costs, he said, paled in comparison to the expense of students travelling abroad to train. "It is actually quite cost-effective."
Shot using two 360-degree cameras and a number of lenses arranged around the theatre, the operation could be viewed through the "VR in OR" app, using a virtual reality headset that can be paired with a smartphone. Those who did not have a headset could watch the feed live online.  It takes a while to get the app up and running so while I wait for the VR experience to start I watch the procedure begin via the website. The lights are dimmed and, wielding an intimidating device, Ahmed begins to remove a hernia. "This is called a harmonic scalpel," he says as he gets to work.
A hush descends, punctured only by beeping. Peering down I spot some odd-looking scissors I hope no one will ever use on me. Two large screens on either side of the table show views from the camera inside the patient – a device that resembles an enormous knitting needle. The team prepares to tackle cancer. "OK let's have a look, here we go," says Ahmed. Fortunately, the app boots up. And I am in the room too. "There is a tumour just here," says Ahmed. "This is what cancer looks like in reality." While videos showcasing surgical procedures have been around for years, Ahmed believes the new approach is more than a mere gimmick. The technology, he has argued, brings a valuable new feature to education, allowing viewers to focus not just on what the surgeon is doing, but also on what other members of the team are up to: "There will be noise, there will be the immersive factor – so that will add different layers of educational value."
George Hanna, professor of surgical sciences at Imperial College, London was cautiously optimistic about the benefits of the approach. "If this technology allows the transfer of knowledge and skills [over] a wider range and in an easier way that would be very beneficial," he said. But he was quick to add that, compared with existing approaches for sharing scenes from the operating theatre, the new technology offered more of an upgrade than a revolution. "It is a good video and wide broadcast with interactive [opportunities]," he said, stressing that the operation itself was real rather than virtual.
"[During an operation] I am teaching people, talking to them, there is communication going on – so it'll be just an extension of that," he said. In three to five years, haptic devices – which work off physical contact between the user and computer – could boost the experience further: "Companies are really working on various gloves or bodysuits and devices so that it can replicate touch and feel."
Such technologies, said Ahmed, could be a boon to healthcare. But, he added, the role of patients in agreeing to take part should not be forgotten. "Ultimately, it is about the operation, about [the patient], about his cancer care and that has to be the priority for everybody. "The fact that patients have agreed to do this before – with the Google Glass – and again, it is quite reassuring and quite humbling."